After a rigorous selection process including hundreds of world-class companies in the Asia-Pacific region, Heaven Springs Dynasty Group, an atmospheric water generation technology company, and 13 other growth-stage companies were selected to participate in "Unreasonable Impact" created with Barclays, see the list of selected ventures.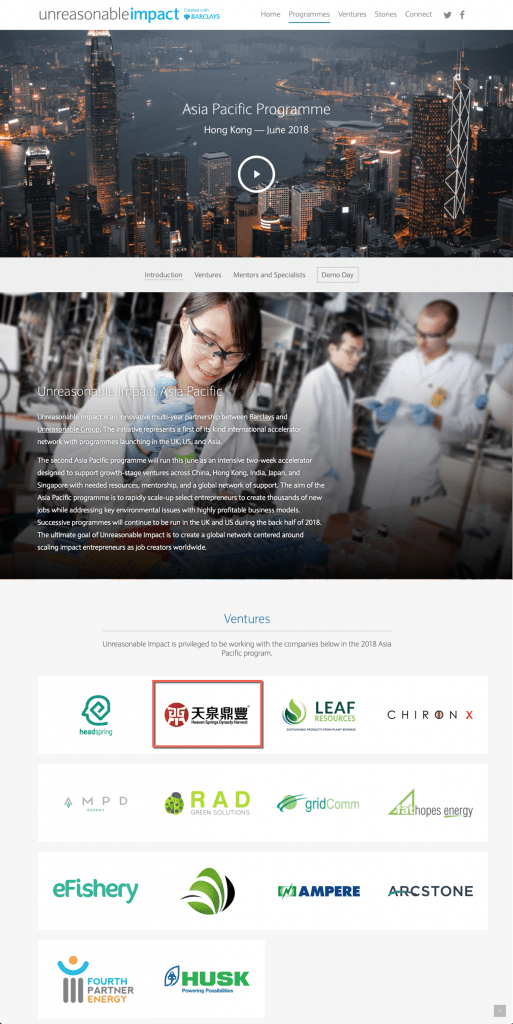 The Unreasonable Impact Program is an innovative collaborative project between Barclays and the Unreasonable Group. It aims to launch the world 's first international accelerator network, focusing on helping companies grow rapidly and employ thousands of people worldwide to solve the most pressing social challenges.
The Program has been held in the America, the United Kingdom, Europe and the Asia-Pacific region. The participating companies in the first two years have businesses in more than 180 countries, more than 250 million customers, and have supported more than 15,000 jobs. To date, these companies have raised nearly $ 2 billion, and exceeded $ 400 million in the Asia-Pacific region.
Heaven Springs is committed to breaking through the challenges of global water resources. They have created the first multipurpose Atmospheric Water Generator, designed to extract water from humid ambient air and efficiently convert it into safe drinking water. This form of generation is not subject to geographical restriction nor power source. Its process produces no waste water, it purifies the air, and its water quality meets the World Health Organisation's guidelines for drinking water. The individual unit series of their Atmospheric Water Generator can produce 30 litres to 5 tonnes of water per day. Their atmospheric water generation plant can produce more than 100 tonnes of safe drinking water per day with no water consumption, no pollution and no additives – all powered by renewable energy supplies, like solar and wind. This application could address water resources or scarcity issues on islands, ships, offshore working platforms, and in deserts or locations suffering natural disasters. Heaven Springs has registered more than 100 international patents within 152 contracting states in WIPO.